RESTAURANT DE LA FONDA
Dolors and Josep offer a refined cuisine based on traditional Catalan high mountain dishes, always choosing top-quality products of the land.
We have a bar service and large lounge with television, daily press service, children's park, board games, table tennis and terrace with magnificent views of the Camprodon Valley. The ideal place for family celebrations, communions and baptisms.
OPENING HOURS
Breakfast: from 8:30 AM to 10 AM
Lunch: from 1 PM to 3:15 PM
Dinner: from 8:15 PM to 9:30 PM
Open every day
HOLIDAYS:
14 days at the beginning of November
14 days at the end of June or beginning of July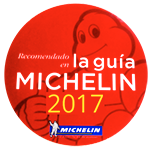 Recommended in the Michelin Guide 2017